Since I am procrastinating with meal planning and food shopping this week my husband decided to order pizza last night. I am sure his decision was coupled with the fact I wouldn't be home for dinner time and he was stuck home with two hungry kids that he had to feed. So when I called him to let him know I wouldn't be home until after 9 pm he told me he was dealing with two hungry kids, a barking boxer and the Domino's delivery guy at the door and he had to go. Domino's is alright pizza and, unfortunately, the regular pizza place we have been relegated to using since we moved to Georgia 4+ years ago, but for this native New Yorker it still leaves something to be desired, namely my desire for true NY pizza.
I was born in Brooklyn and partially grew up in the Gravesend, a section of Brooklyn bordering Coney Island and Bensonhurst. My grandmother lived in the 3 family house I was born into until I was 16 years old and I spent a lot of time in Brooklyn during my formative years, even after my family moved to Staten Island . My grandmother's house was a quick drive to the Bensonhurst section of Brooklyn which, in my very humble opinion, harbors the best pizzeria this side of Italy. This pizzeria, which is Brooklyn, and NYC institution, is L&B Spumoni Gardens.
My family would often go to L&B's during the summer where we could sit outside on the picnic tables and enjoy pizza that could only be described as other worldly. We wouldn't go for their neapolitan slice (traditional NY slice ), we would only get one type of pizza of their menu, which was their sicilian slice.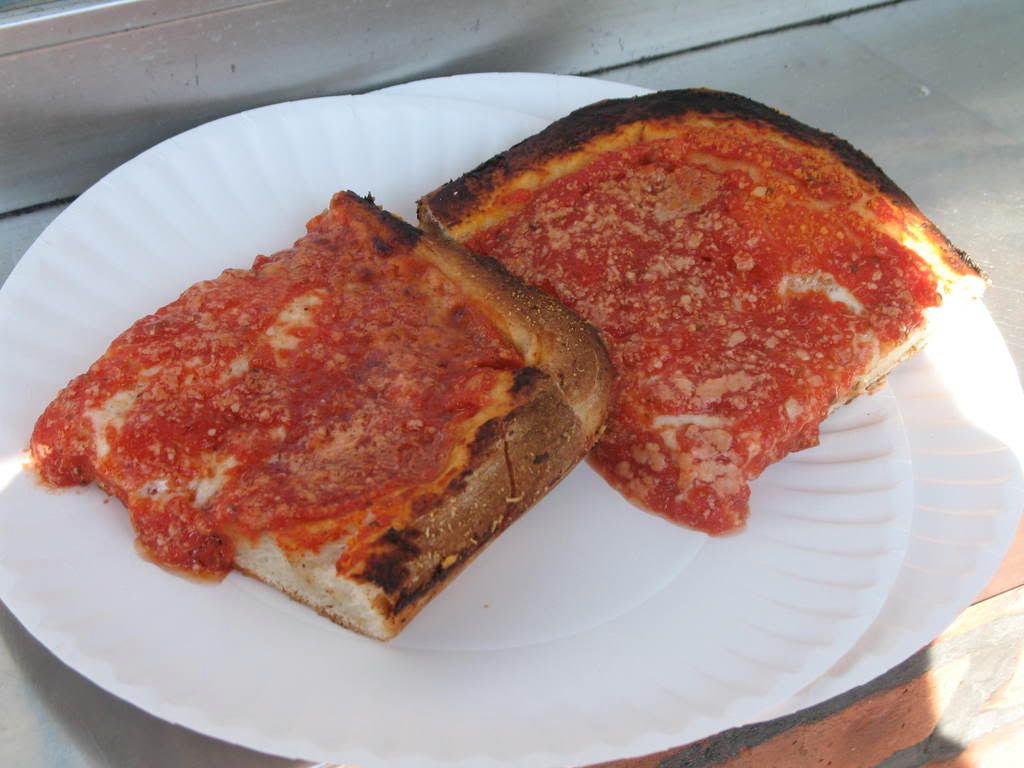 I am drooling looking at this picture right now, for I haven't had L&B's in years. But I can still taste that slice as if I had one only yesterday. Trust me, there is nothing like it. A sicilian slice differs from traditional pizza and chicago style pizza, it has to deal with the dough they make for it. It is also baked in a cast iron pan in a pizza oven. I have had my fair share of sicilian pizza in my life, especially since I worked in two pizzerias while in High school on Staten Island. What makes L&B's so special is what is on top of the pizza crust. The mozzarella is under the sauce, and once you taste the sauce you will realize why it is the forefront of this pizza. It isn't a traditional pizza sauce, it's a full on chunky homemade marinara seasoned to perfection. And if that wasn't enough, they sprinkle just enough grated cheese (not sure if it is parmesan or pecorino romano) to add a salty dimension to the tangy sweet marinara. If you find yourself in Brooklyn, go to Macdonald Ave and experience this pizza. There is nothing like it in the world. And don't forget to follow it up with a paper cup of spumoni, the italian creme ice that is the perfect accompaniment for this pizza and hell, it's what the pizzeria is named after. Their spumoni is off the charts but that's topic for another blog.
L&B's is not the end all when it comes to my pizza fetish. Like I said earlier, I worked in two pizzerias located in Staten Island while I was a teen-ager and pizza is one food that I can eat everyday of the week. I am sure my work experience in the pizza industry lends to this, since there were many days where I do just that, eat pizza at least once a day. The other pizza that I dream of is Brother's Pizza, located on Forest Ave in Staten Island, just a hop, skip and a jump away from the house I grew up in. Brother's is unique as they don't deliver the neighboring area of Staten Island, forcing people to make a pilgrimage to their pizza counter to experience the deliciousness Brother's has to offer.
Whenever we go home, we always make a pilgrimage to Brother's. My husband grew up in Brother's neighborhood so this was the pizza that brings him back to his childhood. We usually take my brother with us since he loves their food as much as we do. Their regular slice is amazing but I find myself getting their chicken roll (think chicken parmigiana wrapped in pizza dough), homemade mozzarella sticks and their grandma slice, which is like a thin crust sicilian topped (again) with marinara, mozzarella cheese and fresh basil.
Can you start seeing why Domino's just doesn't cut it when it comes to my pizza cravings. It is a good substitute but it still leaves something to be desired. But all hope is not lost, for we have found a pizzeria located in downtown Savannah that quells my cravings when they strike the hardest. It's Screamin Mimi's. They describe themselves as a Jersey style pizza joint. I know the owners are from Jersey and I don't feel like getting into an argument over Jersey not having their own style of pizza. "Jersey" pizza is NY pizza that migrated to the bowels of the Garden State. So I keep my opinionated New Yorker mouth firmly shut when we go there. I do not want to cause any ill-will with the only pizzeria within driving distance of me that brings me back to the tastes of home. Unfortunately, it is a decent 20 minute drive from us and we usually go there to eat for by the time we order take out and get it back to our home, located on the Southside of Savannah, the pizza is cold. Needless to say, we don't get a chance to go their as often as I would like, leaving us to order from the local Domino's on a weekly basis.
I know no matter where I travel, I will always be searching for a slice of pizza that brings me right back home. And when I manage to get back to my hometown, I know where I will stop off to relish the tastes of my childhood. Now off to heat up a slice of Domino's and fruitlessly wish it was something tastier, and more New York like.